A Hound Always Finds Its Way Home!
We are excited to celebrate our 2022 Homecoming with you this year! Continue to check this page often as we continue to update all of the festivities for this year's event.
Please be aware that the University of Indianapolis will be capturing video during Homecoming events using drone technology and traditional video cameras. Your participation in these events serves to acknowledge your acceptance of this activity and understanding that no compensation, monetary or otherwise, will be provided to anyone in attendance as part of this activity. Additionally, attendance at Homecoming gives the University of Indianapolis permission to record, publish, reproduce and distribute for publication your image for purposes of University advertising and promotion. Thank you in advance for your cooperation.
Thursday, September 29
ALUMNI EMPLOYEE HOMECOMING KICK-OFF CELEBRATION
3 p.m.
Time to kickstart Homecoming festivities! This unique gathering is only open to UIndy alumni who also serve as employees on campus. Please help the Office of Alumni Engagement better prepare for the event by registering in advance. Registration Requested.

Friday, September 30
HOMECOMING HEADQUARTERS
Students can stop by the Schwitzer Atrium for a fun activity each day this week to celebrate Homecoming 2021.
UNIVERSITY CHAPEL DEDICATION
11:00 a.m. – 1:00 p.m. • Schwitzer Student Center – Shreve Atrium
2 – 4 p.m. • University Chapel
Help the University dedicate our new chapel space. Formerly known as University Heights United Methodist Church, the University Chapel serves students of all denominations and hopes to continue to legacy within the University Heights community. Registration Requested.

SUE WILLEY COURT DEDICATION
4-6 p.m. • Sue Willey Court, Ruth Lilly Fitness Center
The University is excited to honor the legacy of Dr. Sue Willey's 45 years of service to the University by naming the court in the most active athletic building on campus. The Ruth Lilly Fitness Center is the nucleus for Greyhound Athletics, and UIndy plans to update the court for optimum performance and safety. In doing so, the installation of a new floor will be dedicated to Dr. Sue Willey. Registration Required.

CLASS OF 1972 REUNION DINNER
6 p.m. • Schwitzer Student Center
The Indiana Central College Class of 1972 is invited to celebrate their 50th Reunion. Reconnect with classmates and old friends at the special dinner. Registration Required.

PHYLIS LAN LIN SOCIAL WORK DEPARTMENT 25TH ANNIVERSARY
6 p.m. • Schwitzer Student Center
All social work alumni are invited back to campus to celebrate the 25th Anniversary of the Phylis Lan Lin Department of Social Work. Reconnect with classmates and learn how the program has changed and how in so many ways, it's stayed the same. Registration Required.

Saturday, October 1
HOUND HUSTLE 5K RUN/WALK
8:00 a.m. Registration, 9:00 a.m. Start • Schwitzer Student Center
Start your Homecoming day with a fun run/walk through campus and the local neighborhood. Proceeds benefit UIndy scholarships. Registration Required.

50-YEAR CLUB BREAKFAST
8:30 – 10:00 a.m. • UIndy Hall
All graduates of 50 years or more are invited to this special breakfast to celebrate our Indiana Central history and to welcome the Class of 1972 into the Club. Please contact the Office of Alumni Engagement at alumni@uindy.edu to register. Registration Required.

PRESIDENT'S LUNCH
12:00 – 1:30 p.m. • Good Hall Lawn
Join us for the annual President's Lunch where you'll hear from Interim President Phil Terry regarding the future of the University. This is also the unofficial kick-off of "game day" during Homecoming. Help us better plan for your visit by registering in advance. Registration Requested.

ALUMNI MUSIC RECITAL
2 p.m. • Ruth Lilly Performance Hall, Christel DeHaan Fine Arts Center
Ready to showcase your musical talents? Alumni are invited to participate and attend in this special event. This recital has become a Homecoming tradition! If you would like to participate in the recital, please contact Mitzi Westra at mwestra@uindy.edu. Registration Requested.

TAILGATE TOWN
3:00 p.m. • Nicoson Parking Lot
All are invited to enjoy the festivities at the biggest tailgate of the year – grab a spin art T-shirt from the Department of Art & Design, enjoy music, and more as you gear up for the big game! For tailgating, please contact Matt Donovan at mdonovan@uindy.edu.
HOMECOMING PARADE
4:00 p.m. • Hanna Avenue
Join fellow Greyhounds and their families for our annual golf cart parade down Hanna Avenue featuring student organizations, UIndy faculty and staff, athletic teams, and more.
BLOCK PARTY
4:00 p.m. • In front of the South Residence Halls (Warren, Roberts, Cravens)
Don't miss the fun at the annual Homecoming Block Party! Come hungry for a variety of food trucks, entertainment and so much more.
UINDY FOOTBALL GAME vs. SOUTHWEST BAPTIST BEARCATS
6:00 p.m. • Key Stadium
Don your favorite crimson and grey gear and help cheer the Greyhounds to victory over the Southwest Baptist University Bearcats. For football tickets, please visit athletics.uindy.edu. To provide a safer environment for the public and to expedite fan entry into Key Stadium for Greyhound football, UIndy is also implementing a clear bag policy to limit the style and size of bags that may be brought into the stadium. See policy below.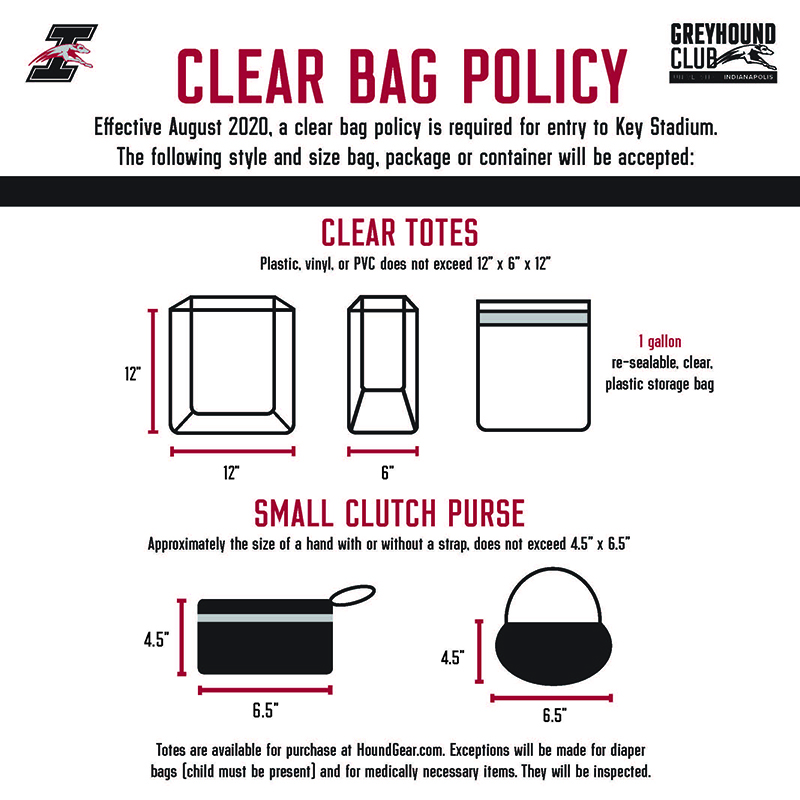 Sunday, October 2
UNIVERSITY CHAPEL CHURCH SERVICES
9 a.m. • University Chapel
Join the University community for a special Homecoming church service.
FOUNDERS DAY PRESENTATION: CELEBRATING OUR 120-YEAR ANNIVERSARY
10:30 a.m. – 12:00 p.m. • University Heights United Methodist Church
Join our campus community as Dr. Michael G. Cartwright presents "What were they thinking?" with responses from 4-5 persons from UIndy alumni, faculty, and staff about "What Are We Thinking?" – Office of University Mission co-sponsored with the UIndy Saga in the 21st Century Project. Registration Requested