A Hound Always Finds Its Way Home!
We are excited to celebrate the University of Indianapolis 2023 Homecoming and Family Weekend with you this year! We invite all Hounds and their families to participate in this campus tradition. Continue to check this page often as we update all of the festivities for this year's event.
---
Wednesday, October 4
VIRTUAL ALUMNI LUNCH WITH PRESIDENT TANUJA SINGH
Noon – 1 p.m. • Virtual
Join President Tanuja Singh for a virtual lunch and enjoy an interactive conversation about UIndy, the fall semester, and the many exciting things ahead for our Greyhound community.
Registration preferred for the Virtual Alumni Lunch with President Singh
---
Thursday, October 5
ALUMNI EMPLOYEE HOMECOMING KICK-OFF CELEBRATION
Noon – 1 p.m. • Enders Engagement Space, Schwitzer Student Center
Kickstart the Homecoming festivities at this unique gathering for current UIndy faculty and staff who are also alumni. Guests at this unique event will be the first to hear the honoree announced for our 2023 Distinguished Faculty/Staff Alumni Award.
Registration preferred for the Alumni Employee Celebration
---
Friday, October 6
ART & DESIGN 100TH ANNIVERSARY GALLERY RECEPTION
5 – 7 p.m. • Christel DeHaan Fine Arts Center
All alumni and friends are invited back to campus to celebrate the 100th anniversary of the Art & Design department. Join the department in Christel DeHaan Fine Arts Center for a faculty exhibition gallery reception and ceremony.
Registration Requested for the Art & Design 100th Anniversary Reception
UINDY VOLLEYBALL VS. UNIVERSITY OF MISSOURI-ST. LOUIS
6 – 8 p.m. • Ruth Lilly Fitness Center
Cheer on your Greyhounds as the UIndy Volleyball team takes on the Tritons from University of Missouri – St. Louis.
CLASS OF 1973 REUNION DINNER
6 – 8 p.m. • Stierwalt Alumni House
The Indiana Central College Class of 1973 is invited to celebrate its 50th Reunion. Reconnect with classmates and old friends at the special dinner.
$10/person to attend.
Registration Required for the Class of 1973 Reunion Dinner
GREYHOUND COOKOUT AND CORNHOLE
7 – 9 p.m. • Key Stadium
All students, alumni, and family members are invited to join us on under the lights at Key Stadium. The cookout will feature alumnus DJ Iman '16 '18 and a cornhole competition.
Registration requested for the Greyhound Cookout
---
Saturday, October 7

HOUND HUSTLE 5K RUN/WALK
8:00 a.m. Registration, 9:00 a.m. Start • Schwitzer Student Center
Start your Homecoming day with a fun run/walk through campus and the local neighborhood.
Registration required for the Hound Hustle 5k run/walk
50-YEAR CLUB BREAKFAST
8:30 – 10:00 a.m. • UIndy Hall
All graduates of 50 years or more are invited to this special breakfast to celebrate our Indiana Central history and to welcome the Class of 1973 into the Club.
$10/person to attend.
Registration Required for the 50-year Club Breakfast
PRESIDENT'S LUNCH & PEP RALLY
12:00 – 2:00 p.m. • Good Hall Lawn
Join us for the annual President's lunch, where we will help welcome the University's 10th president, Dr. Tanuja Singh. Connect with current UIndy families, alumni and friends as we celebrate UIndy's newest accomplishments and look to the future. We will close with a special pep rally to celebrate Greyhound student-athletes competing later that day.
$10/person to attend
Registration Requested for the President's Lunch
ALUMNI MUSIC RECITAL
2 – 3 p.m. • Christel DeHaan Fine Arts Center
Enjoy the musical talents of UIndy alumni during this special Alumni Recital. The concert will feature vocal and instrumental performances from talented UIndy alumni.
ALUMNI HOUSE WELCOME CENTER
2 – 4 p.m. • Stierwalt Alumni House
The Stierwalt Alumni House is available for alumni to rest between festivities and visit with fellow alumni and Greyhound families. Light refreshments will be provided.
ART & DESIGN OPEN HOUSE
2 – 4 p.m. • Christel DeHaan Fine Arts Center and UIndy Art Annex
Stop by the Art & Design Annex and Christel DeHaan Fine Arts Center to celebrate the Department of Art & Design's 100th Anniversary! The Department will open our newly renovated spaces and studios to guests, ongoing activities (including Spin Art!), and a limited art sale featuring student works. Faculty and students will be in the studios to answer questions and help with activities.
UINDY VOLLEYBALL VS. MCKENDREE UNIVERSITY
3 – 5 p.m. • Ruth Lilly Fitness Center
Your Greyhound Volleyball team is back to take on the McKendree University Bearcats.
Purchase your game tickets here.
DINNER IN THE DINING HALL
4 – 6 p.m. • Ober Dining Hall
Visit the newly renovated Ober Dining Hall in the Schwitzer Student Center to have dinner and recharge before the football game.

TAILGATE TOWN
4:00 p.m. • Nicoson Parking Lot
All are invited to enjoy the festivities at the biggest tailgate of the year – enjoy music and more as you gear up for the big game!
For tailgating, please contact Matt Donovan at mdonovan@uindy.edu.
ALUMNI AND FAMILY BLOCK PARTY
4 – 6 p.m. • UIndy Health Pavilion Parking Lot
Greyhounds of all ages are welcome to enjoy the annual Homecoming Block Party! Come hungry for a variety of food trucks while enjoying a variety of games, inflatables, entertainment and so much more.
UINDY FOOTBALL GAME vs. WILLIAM JEWELL CARDINALS
6:00 p.m. • Key Stadium
Don your favorite crimson and grey gear and help cheer the Greyhounds to victory over the Cardinals from William Jewell.
For football tickets, please visit athletics.uindy.edu.
To provide a safer environment for the public and to expedite fan entry into Key Stadium for Greyhound football, UIndy is also implementing a clear bag policy to limit the style and size of bags that may be brought into the stadium.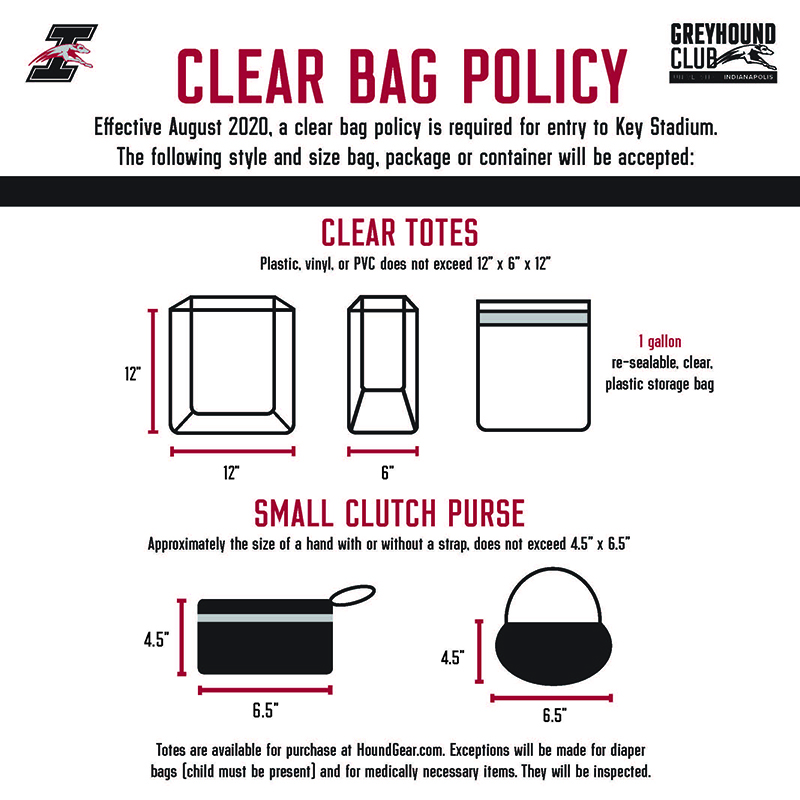 Clear Bag Policy
Effective August 2020, a clear bag policy is required for entry to Key Stadium. Clear totes may not exceed 12″x6″x12″. Small clutch purse may not exceed 4.5″x6.5″. Totes are available for purchase at houndgear.com. Exceptions will be made for diaper bags (child must be present) and for medically necessary items. They will be inspected.
Sunday, October 8
UNIVERSITY CHAPEL CHURCH SERVICES
9 a.m. • University Chapel
Join the congregation of the University Heights United Methodist Church for their weekly Sunday service.
UINDY CATHOLIC MASS AND LUNCH
11:45 a.m. • St. Jude Catholic Church
All alumni, students, and families are invited to St. Jude Catholic Church for a special mass with a catered lunch to follow.

Registration requested for Catholic Mass and Lunch
UINDY SOCCER DOUBLE HEADER AGAINST LEWIS UNIVERSITY
Noon – 4 p.m. • Key Stadium
The UIndy Women's and Men's Soccer teams as they take on the Lewis University Flyers. The Women's game starts at Noon, followed immediately by the Men's game at 2:30 p.m. Wrap up in your favorite Crimson and Grey gear to cheer on the Hounds! Purchase your game tickets here.
Note: Please be aware that the University of Indianapolis will capture video during Homecoming events using drone technology and traditional video cameras. Your participation in these events acknowledges your acceptance of this activity and understanding that no monetary or otherwise compensation will be provided to anyone in attendance as part of this activity. Additionally, attendance at Homecoming gives the University of Indianapolis permission to record, publish, reproduce and distribute for publication your image for purposes of University advertising and promotion. Thank you in advance for your cooperation.